9 weeks to go and we leave muscat!
The last few weeks have been soo busy. Family and friends visiting, a trip to dubai and not to forget KIDZANIA - incredible.
Check it out here
www.kidzania.com
.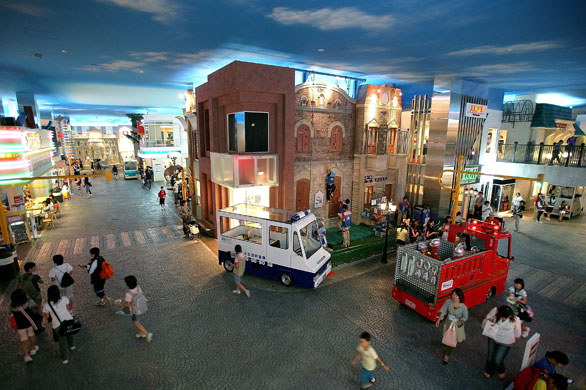 Kidzania opened in Dubai Mall (Tokyo Pictures above) in January 2010. It is the most incredible indoor play center i have ever seen. Basically the kids get to choose any job they want to be, dress up, complete their task and get paid for that job. They have their own currency and of course a bank! My son loved being a fireman, dentist, driving a car, making his own happy meal and pizza, going to the barber etc etc We are even contemplating a 5 hour drive back to dubai just to take the kids to Kidzania again before we leave. Although I did read that it is going to open in Kuala Lumpur - so not far from singapore - but not until 2012.
WHAT I will say about Kidzania though and this is no reflection on the company but on the city in which it is located!! We did happen to go on a very busy day and friends of ours that were there on the same day, who have been before, said it was not this busy when they went! BUT I was absolutely APPALLED at the lack of manners, recognition of others and just downright chaos that was created due to the lack of manners! Like one expat mum who was standing in the line (oh should i say jumble) said "THEY DON'T GET TAUGHT MANNERS IN SCHOOL HERE!". Now I am assuming she means local schools, as being a teacher in an international school, we certainly expect manners to be used and make them a part of our everyday classroom behaviours!
SO WHOSE fault is it that people don't have basic consideration of others in this type of setting! Here is one scenario:
3 local kids come to the racing cars which have somewhat a line already in existence. The kids go straight to the front of the line - pull up the rope and try and barge their way! Man in charge of this area does not see! OUR KIDS have now been waiting for more than 20 mins for a go! Another parents sees what happened and tells kids to go to back of line! Kids talk rudely to him! Finally he tells the man in charge and he sends kids back! THEN DAD comes along gets kids and pulls them back to the front of the line - this time though can't get under the rope and has to stand on the side - DAD constantly barraging man in charge to get three kids in!!! He does not succeed - BUT I DID SEE SIMILAR SITUATIONS WHERE IT DID! AND my quiet, well mannered children were left to wait again and at one point get trampled by bigger kids and their parents!
SO DO WE BLAME THE KIDS - well obviously not - DO WE BLAME THE PARENTS - well yes - BUT they too have probably been brought up in such a way - A ME FIRST SOCIETY! This is really sad and it does really ruin the reputation of Dubai - maybe not in an obvious way - but there were not just one lot of parents in there complaining!
I AM GLAD THAT OMAN IS NOT LIKE THIS! People are far more courteous generally!